His books were the break from Dick and Jane books and other formal primer books,
They lead the way to entertaining and educational childrens' books.
I am totally inspired by activities that are connected to reading and learning. So here are some of my Dr. Seuss favorites:
She read the classic One Fish, Two Fish,
With her son, and did this fun activity!

who made these adorable TP tube puppets: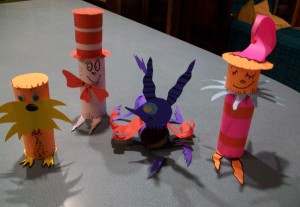 What a fun way to read a story and celebrate it!
(Wouldn't it be fun to do a puppet show with these?)
She made this cute Lorax snack, after reading the Lorax with her son.
You make place mats out of Dr. Seuss Books!
I love this idea, because I just bought some old books at a yard sale, and I've been waiting for some inspiration.
and a great way for your kids to integrate reading into every part of their lives!
Thanks for reading! If you were featured, grab a button!