Our theme for the week was Community Helpers,
which can be a pretty broad subject!
It can mean anything from teachers, to firemen, to crossing guards.
It is basically a way to learn about different adults
and how that shapes what occupation
they want to have in the future.
So I love changing up the pointer sticks,
Which we use every morning as part of our circle time routine.
I found this picture on-line and printed it, and glued it to a stick.
It was fun and it changed it up a bit for them.
Day one they all fought over having girls,
because 5 out of 6 of the children in preschool are girls.
So day two I made a three more girls.
Weird Al? I know, but this book is really cute.
Its a silly book about all the things Sam could be when he grows up.
Which they could go and read when they finished their work.
I set up a big Community Helper neighborhood in the back yard.
Here's the construction zone:
Here is the Grocery Store:
Which doesn't look like much,
but they had the most fun lining up the play food,
and selling it, and buying it.
And here again is the fire truck
This pretend play was a really effective way for them to practice what they learned.
So even though it was a little time intensive to set up,
they used it for both days, so it was worth it!
For a Community Helper Snack,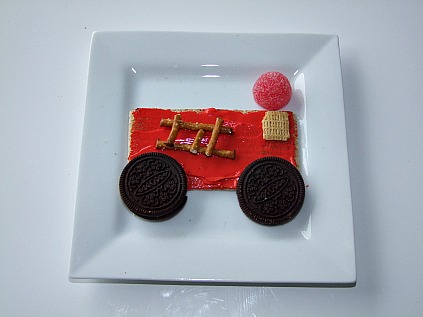 For math time we went inside to practice patterning skills.
In the past I have been a little apprehensive about pattern worksheets, but this one was very engaging and cute.
and it is part of a whole pack!